In Memory
Guilford Johnson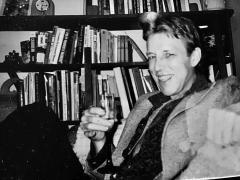 WOOSTER " Guilford N. œGuil  / œDube  Johnson, 70, of Wooster passed away on Wednesday, May 5, 2021 at Ohio ™s Hospice LifeCare in Wooster.
He was born November 4, 1950 in Wooster the son of Guilford G. and Helen Alexander Johnson. Attended nursery school at the College of Wooster, Layton, Wayne and Edgewood, a subsequent Wooster High ( ™69) grad excelling academically, socially and athletically, followed by attendance at Northwestern in Chicago and Prescott in Arizona.
Loafers or Chukka ™s, worsted tweeds, paisley or Madras, bib overalls, cut-offs, cords narrow or wide whale: from his carefree teenage years to midlife, Guil was ever a person of style and taste.
But challenges were to come, and come they did. At 17 a horrific automobile accident, at 20 late adolescent onset schizophrenia, at 58 surgery, chemo- and radiation therapy for throat cancer, only to rebound from it for 12 years post diagnosis. Ultimately COPD and ¦ and ¦
In spite of it all, Guil fearless, carved out a life for himself, lived big. Kind and thoughtful, or loud, obstreperous and difficult, whatever the case, he made an indelible impression.
His passions ran the gamut from Tolstoy and Kerouac to Nietzsche and Hesse, from Neil, Jimi, Janice and Janet to Madonna and Bruce. Early on he relished writing for his own enjoyment and performing at the Needle ™s Eye. Later on, it was painting, still playing a 6 "string, a photoshoot at Leroy ™s bridge. Finally, ever the socialite Guil enjoyed at first walking – at times great distances – to visit a broad circle of friends and then – with declining health " it narrowed to the small remnant at Hill Top.
Surviving is a brother Peter (Laurie) Johnson and a sister Andrea (Bill) Bostancic both of Wooster; nephews Emmanuel (Kati) Johnson, Mark (Mary) Johnson, Robert Johnson and a niece Abigail (Jeremy) Clevenger and multiple great-nieces and nephews.
He was preceded in death by his parents.
There will be no calling hours. Private funeral service will be held May 9 at the McIntire, Bradham & Sleek Funeral Home with Pastor Jacob Dodson officiating. Burial will follow in the Wooster Cemetery. A celebration of Guil ™s life will be held at a later date, including his favorite – Coccia House pizza: sausage, pepperoni and anchovies.
The family extends their sincere thanks and expressions of gratitude to the countless mental health physicians who cared for him throughout his life, and most recently to Wooster Hospital ™s ER department, TCU unit and LifeCare Hospice who always respected his dignity and rendered compassionate comfort and care in his final days.
https://www.mcintirebradhamsleek.com/obituaries/guilford-n-guil-johnson-0