In Memory
John Robey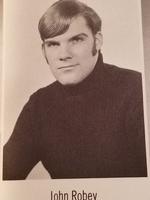 WOOSTER – John S. ROBEY, 57, of Wooster, died Sunday, January 20, 2008 at his home.
Born November 10, 1950 in Wooster, OH, he was the son of Clarke Lucas and Bernice J. Husher Robey.
He worked in the Shipping Dept. at Rubbermaid for 29 years. Was an avid fisherman and a member of the Eagles Lodge.
Surviving is a brother, Paul Robey of Kilbuck.
He was preceded in death by his parents.