In Memory
Kent Hamilton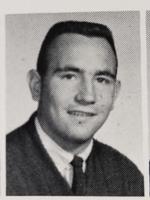 Obituary for Kent J. Hamilton
Kent J. Hamilton, age 65, of Wooster, went home to be with the Lord, Monday June 8, 2015 at Wooster Community Hospital.
He was born on December 19, 1949 in Mansfield, Ohio to Raymond and Lorena (Chenevey) Hamilton and has been a Wooster resident for most of his life.
He married Sharon Watkins in Wooster on June 28, 1969. She survives.
He was a self employed truck driver and retired after many years of service along with also running "Dad's Family Barbecue".
He was a devoted husband, father and grandfather who loved spending time with his family throughout the years and was an avid hunter and fisherman.
In addition to his wife, he is survived by his children, Heather (Trever) Mackey of Killbuck, Ohio, Erica (Marc) Craver of Wooster and Jason (Mindee) Hamilton of Massillon; grandsons, Garrett and Major Mackey, Jeremy, Zach and Chase Hamilton; brothers, Gale (Zelma) Hamilton of Wooster, Marshall Hamilton of Dalton and a sister, Rena (Denny) Figley of Wooster and his faithful canine companions, "Izzy", "Molly", "Crackers" and "Squeaky".
In addition to his parents, he is preceded in death by his brothers, Harlan Hamilton and a brother-in-law and best friend, Dave Pepin.
Memorial services will be Thursday, 7:00 p.m. at Custer-Glenn Funeral Home, 2284 Benden Dr., Wooster with Pastor Jerry Hackworth officiating. A private family interment has taken place.
A visitation will be 2 hours prior (5:00 - 7:00p.m.) to services at the funeral home.
Memorial contributions may be made in lieu of flowers to the funeral home to help defray expenses.
https://obittree.com/obituary/us/ohio/wooster/custer-glenn-funeral-home-and-cremation-services-inc/kent-hamilton/2904959/